Opening sequences from Trefossa: Mi a No Mi (2008), directed by Ida Does


Mi a no mi
solanga mi brudu
fu yu a n'e trubu
na ini den dusun titei fu mi

I am not myself
until my blood
is infused with you
in all of my veins

— From "Gronmama" ("Earthmother"); English translation by Quinton Zondervan

If Suriname has a national poet, Henri Frans de Ziel (1916-1975), who wrote under the pseudonym Trefossa, is perhaps the leading candidate. His groundbreaking 1957 book Trotji, the first published collection of Sranan poems, has been called "the big bang of Surinamese literature." Thousands of Surinamese schoolchildren sing his verse daily — he wrote the Sranan part of the national anthem.

Trefossa: Mi a No Mi (2008), a documentary by filmmakers Ida Does and Paul van den Bos, uses interviews, historic film footage, and Trefossa's own words — from his published poems and unpublished diaries — to tell his story, chart his influence on two generations of Surinamese writers, and investigate how the power of his poems helped legitimise Sranan Tongo in both Suriname and the Netherlands.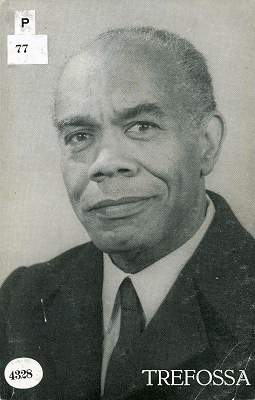 Portrait of Trefossa courtesy the DBNL


The text of Ala Poewema foe Trefossa ("Collected Poems of Trefossa", 1977) is available online at the Digitale Bibliotheek voor de Nederlandse Letteren.